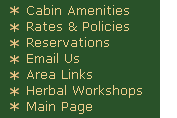 You can use this form to request reservations or to ask questions.

We'd like to know that you stopped by! Simply fill in the form below...and add in any comments or questions...and then PRESS "SUBMIT" and we'll receive your information immediately and respond within a day!

NON-SMOKERS ONLY, PLEASE ...


If you have any questions and would prefer to speak to Linda Ascher, please feel free to call (423) 772-4478. Your call will be welcomed. Look forward to hearing from you! You may also Send Email or Use the Above Online Request Form.